Galvanised iron wire can be classified into hot-dipped galvanised iron wire and electro galvanised wire according to the differences of processing. Commonly refering to electro galvanized wire or galvanized steel wire.
Hot dipped Galvanised iron wire: 8# --36#(3.8mm,0.19mm)
Electric Galvanised iron wire: 8#---38#(3.8mm,0.15mm)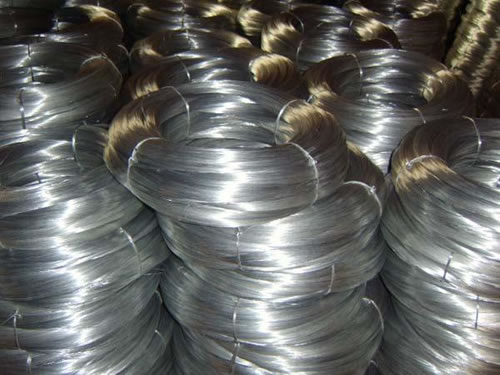 Galvanised Iron Wire, Eletro Galvanizing Processes
Galvanised Wire Features:
- Very good anti-rusty ability
- Good Wrap test result
- Supersonic cleaning, Hcl cleaning- excellent cleaning.
Application of galvanised iron wire
- Galvanised wire is widely used in the industrial fields and the daily lives. It can be as the basic material of many galvanized steel wire meshes, like welded wire mesh, crimped wire mesh, diamond mesh, hexagonal wire netting, hardwire cloth, gabion box, filter screen, mine screen mesh, chain link fence etc. Also used for making of fences and steel ropes.
- Galvanised wire also used in other fields like galvanised wire mesh fencing for the protection of agricultural and commercial properties;
- Used in various automotive components;
- Packaging products;
- Manufacture of galvanised barbed wire;
- Galvanised wire rope of low and high strength;
- Used in medical components etc.
Galvanised tie wire is also written as galvanized tying wire or binding wire. We can manufacture different kinds of tie wire, including galvanized tie wire and PVC coated galvanized tie wire. Small coil galvanised wire tie finds most uses in binding of different materials, especially for daily use.
Galvanised Steel Tie wire Features:
Galvanised/galvanized tie wire is available in a variety of diameters and coil lengths to suit almost any application.
Galvanised steel tie wire can be processed at length: 4"-14", at diameter from 0.8mm to 1.6mm, meantime we can provide specific sizes according to customer's requirements.
Applications: Galvanised wire ties find the following seven major uses:
- Galvanised tie wire is widely used as binding wire in gardens, daily life, handicrafts and certain industrial uses.
- Securing trees, vines and creepers to supporting trellises, or even erecting and joining supporting structures.
- Tying bags for grain potatoes, wood, lime, coal, seed, chemical, etc., or even as a mail or laundry bag seal.
- Bundling products of wire, rod, wood tube and cane.
- An inexpensive packaging for storage or quantity control and for binding line wire to fence posts or securing mesh to line wires or even repairs.
- Fixing or reinforcing steel for buildings, swimming pools, etc
- Packaging of carpets, fabrics, etc., for storage and dispatch.
Galvanized iron binding wire and PVC coated tie wire