Sintered woven wire mesh and non woven sintered web can be in used for several ( fine or deep or sub micron) filtration applications in for example the petrochemical and chemical industry, water conditioning and pharmaceutics
Sintered woven wire mesh consist of multi-layers of stainless steel woven wire mesh laminated together by use of ' sintering.
This creates an enormous class of new materials with a very wide variety of mechanical properties. By combining multiple layers of different mesh weavings, it is possible to design materials with specific target thickness, permeability, pore size, and mechanical strength. Some layers are used for high precision filtration, others for protecting and reinforcing.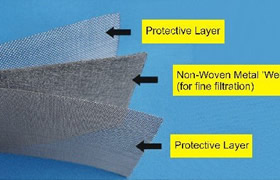 Features of multilayer stainless steel sintered mesh:
good strength and rigidity: five-layer sintered mesh has good machanical strength and resistance of compression.convenient to be machined,welded and assembled
high precision and high stable performance:owing to the filtration layer is at the sencond layer,which is in a proper protection so to get a stable filtration performaince during operation.
corrosion resistance and heat resistance:its material is 316L,whichi resist corrosion and heat,can be used in the temperature from -200°C to 480°C,and acid and alkali environment
easy to clean:excenllent backwash construction,it can be reused numerously with longer service life
Application of multilayer stainless steel sintered mesh :
petroleum
chemical industry
metallurgy
machinery
energy
environment
textile
power
aviation
aerospace
pharmaceutial industries in respect of filtration
purification cooling gas distribution,gas sampling collection,shock reducing,sound attenuation.inflaming regarding.
| | | | |
| --- | --- | --- | --- |
| Type | Filtering rate(micron) | Air permeability(L/min*cm²*pa) | Bubbling pressure(pa) |
| Zsw1 | 1 | | 5300-6000 |
| Zsw2 | 2 | (1-6)*10-4 | 4300-5000 |
| Zsw5 | 5 | (6-10)*10-4 | 3000-3700 |
| Zsw10 | 10 | (6-10)*10-4 | 2700-3300 |
| Zsw15 | 15 | (1-6)*10-3 | 2000-2600 |
| Zsw20 | 20 | (1-6)*10-3 | 1800-2300 |
| Zsw25 | 25 | (6-10)*10-3 | 1400-1900 |
| Zsw30 | 30 | (6-10)*10-3 | 1200-1700 |
| Zsw40 | 40 | (1-6)*10-2 | 1000-1500 |
| Zsw50 | 50 | (1-6)*10-2 | 900-1200 |
| Zsw70 | 70 | (6-10)*10-2 | 700-1100 |
| Zsw100 | 100 | >=5*10-2 | 650-1000 |
| Zsw150 | 150 | >=5*10-2 | |
| Zsw200 | 200 | >=8*10-2 | |