Perforated metal mesh are made by punching machines. Perforated Metal is one of the most versatile products on the market today.
Perforated metal mesh can be made in a range of round, square, slotted or decorative patterns. The round hole perforation is the most popular type of perforated pattern used and is manufactured in perforated metal coils or perforated sheets.
Perforated Metal Sheet is defined by the punching materials, perforated patterns, gauge, staggered angle, sheet thickness and porosity. These factors combine together to form the yield strength, filter rating and proper application. Round hole perforated metals are suitable for filter tube processing with uniform and precise control of flow materials. Following two parts: the general information of perforated metal, and new inquiry from customers. For your order reference.
Common open area or porosity: 20%, 26%, 23%, 30%, 40% and 35%.
Hole Diameter:1.0-6.0mm
Thickness of Metal Plate:0.2-3mm
Material to be punched:
Plain steel sheet and galvanized steel sheet;
Stainless steel sheet;
Copper sheet;
Brass sheet;
Aluminum sheet;
Other metals alloys.
Punched openings : Round, square, triangle, diamond, stright line slot, hexagonal, cross, decorative, etc. The round hole perforation is the most popular type of perforated pattern used and is manufactured in coils or sheets.
We have requirement of perforated sheet as per below mention specification :
Specification for round perforated sheet

Outer Diameter of round disc

Ф 120 mm

Opening diameter (perforated hole size )

Ф 0.7 mm

Center distance between holes

0.9 mm

Thickness of Disc

2.0 mm / 2.5 mm

Material

SS321 / SS316
Features: Perforated sheets are lightweight, attractive, economical, and is easily customizable. A variety of hole patterns, materials and gauges are available for the customers choice.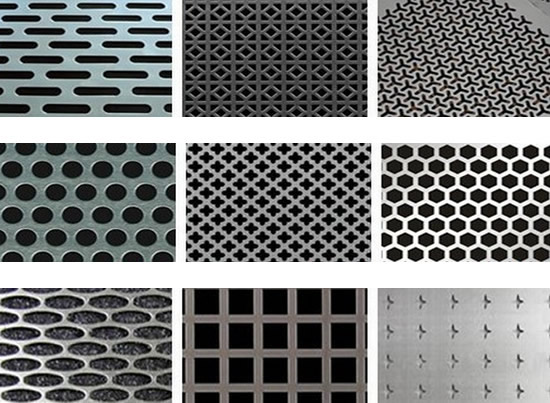 Perforated Sheet Screen With Decorative Patterns
Perforated Round Opening Mesh Carbon Steel Sheets
Perforated Steel SheetsTypical perforation patterns for steel sheets are round opening. Lamina perforated steel sheets are popularly used as security panels, architectural metal cladding panels or processed into perforated tubes.
Perforated steel plates are used for construction panels, filter screening, decorative sheet and grilles, steel fencing and shielding, partition and vent screen uses, hardware and furniture parts.
The specification of round hole perforated metal
As the most common form of perforated metalmaterial because of its versatility and ease in handling, perforated sheets can be supplied either as flat, fabricated, and/or finished product.
Thichness: 0.2mm-1mm
Length: 1m-20m
Hole Diameter: 0.8mm-10mm (2)Plate
Thickness: 0.3mm-10mm
Size: ≤1.5×3m
Hole Diameter: 0.8mm-100mm
Perforated Sheet produces a wide range of perforated metal plates in steel, stainless steel, galvanized steel, aluminium, copper, brass and many other materials. Also available are perforated products including architectural mesh and perforated tubes.
Perforated Metal Application:
Baggage handling equipment
Baking equipment
Chemical processing equipment
Washing machine interior
Coffee maker
Cookware
Counter tops
Dairy handling equipment
Elevator panels
Dish washer drums
Escalators
Entry doors
Fire doors
Flatware
Storage containers
Kitchenware
Jewelry
Metal roofing
Microwave oven interior
Nuclear vessels
Refrigerator panels
Facades/feature walls/decorative walls
Signs and nameplate
Sinks
Splashbacks
Stove tops
Furniture
Hardware
Fireplace fronts
Tableware
Automotive parts
Storage tanks & pipes
Water treatment equipment
Window frames
Rails
Floors, balustrades& stair cases
Roofing materials
Column cladding sheet
Decorative building materials
Vehicle frames
Cargo containers
Commercial kitchen
Surgical instruments
Hopital equipments
Bridges
Public facilities
Monuments and sculptures
Elevator cabins
Kitchen cabinets/cupboards
Closets
Packaging: PVC/PE. wooden pallets/boxes/cates/cases
Perforated Round Hole:
Sheets available in mild steel, galvanized steel, stainless steel, aluminum brass and copper.
Perforated SheetThis pattern is very strong and has an aesthetic appearance and perforated sheets with round holes are typically used in:
Wall & ceiling panels
Architectural finishes
Sunshade screen
Air conditioning grilles
Square Hole Perforated Metal:
Perforated SheetThis kind of perforated sheet is used for display shelf and machine guards offering good visibility.
Typical applications:
Machine guards
Air condition guards
Architectural features
Staggered Perforated Sheet:
Also named slotted perforated sheets. Suited to sorting and grading solid objects.Perforated Sheet
Staggered perforated sheet is made to measure panels, edged and painted to any requirements using aluminium, steel and stainless steel edging sections.
Materials applied for staggered patterns include mild steel, stainless steel, aluminum and copper.
Decorative perforated sheets are mainly for architectural screen uses, including ceilings, façade, partitions in big hotels, buildings and offices.